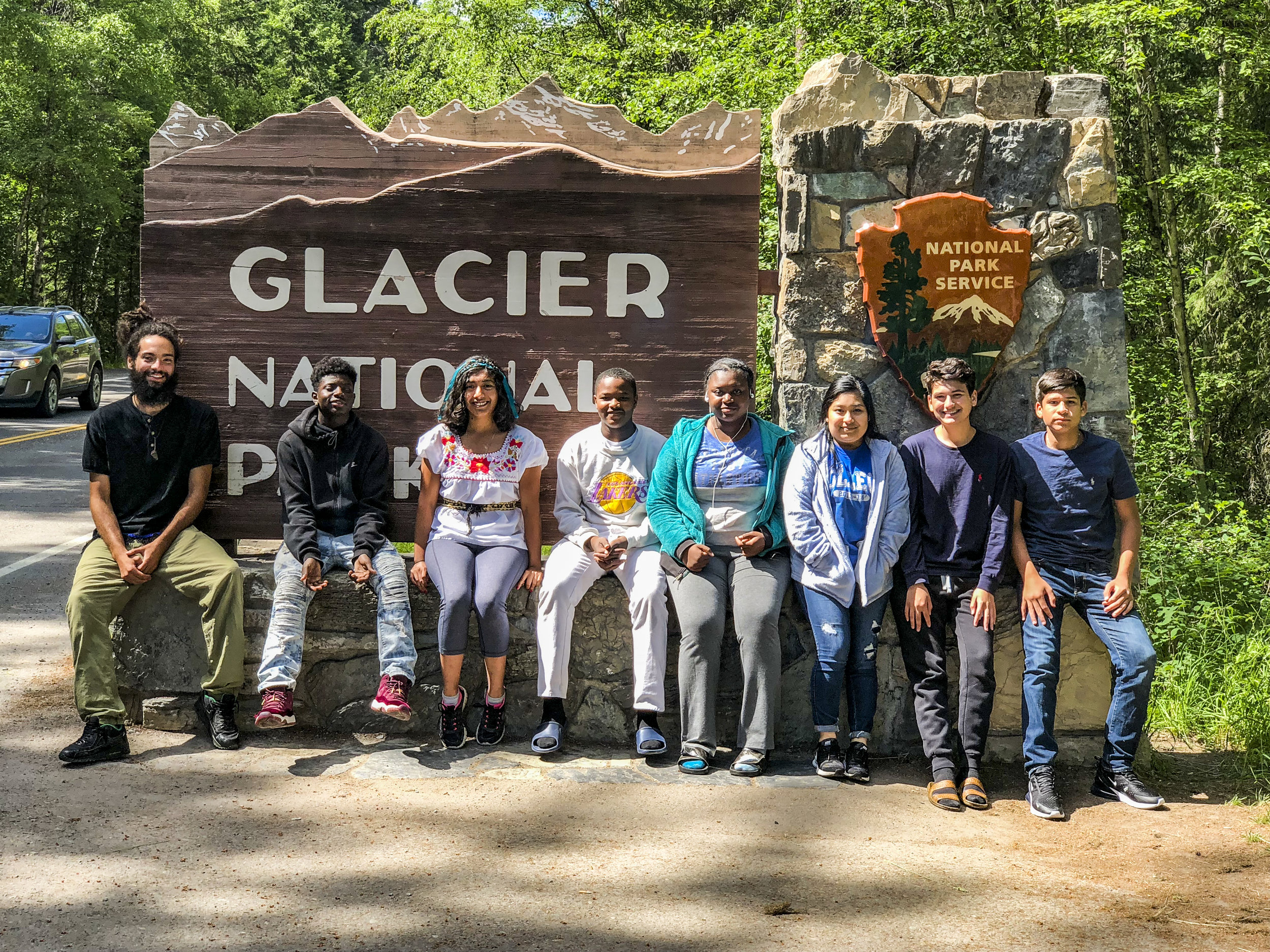 At the Crown of the Continent
By Melissa Guevara
Moments away from touch down, the anticipation and excitement to visit Glacier National Park is palpable among the youth. For some, it is their first visit to a National Park and for others it is their first time seeing snow. Glacier National Park is said to be a premier wilderness area and a place of rugged beauty. As we approached the entrance to the park, our Dallas youth were left speechless as they marveled at the size of the trees and the height of the mountains that dominated the landscape.
Participating in Groundwork USA's Glacier National Park Green Corps Experience is an honor that these youths have earned by dedicating their time to Dallas' urban parks. It is a commitment Rafael Reyes, Angel Silva, and Nohelia Soto, wish to continue to foster serving as stewards to their public lands.
As the week went, on they gained a deeper appreciation for the endless work that goes into providing every visitor the greatest and safest experience possible. They were tasked with the creation of gas meter covers that help protect the lines from falling ice and snow and assisted with the replacement of a building's metal roofing.
A portion of the time was spent at the maintenance building helping park staff and the rest was spent trekking through wildfire damaged forests towards distant lakes that serve as the breeding grounds for the elusive Loon. Angel, Nohelia, and Rafael hiked a total of 8 miles to assist in the National Park's Loon Survey. These birds are currently listed as 'least concern' but experts fear that encroachment into their breeding grounds will create a decrease in Loon populations. The youth were taught how to conduct the surveys and to be mindful of the birds' behavioral changes. In the search for these majestic birds we had the rare opportunity to see a pair and to hear their eerie calls.

As the week drew to an end it was apparent that each youth had gained a deeper appreciation for the natural wonders of the outdoors. They had learned to identify bear tracks, to be vigilant for wildlife including the small Spruce Grouse, work as team, and calmly reflect on the vastness of the world. Our trip back to Dallas was melancholy and filled with questions about where Groundwork Dallas youths would travel and work next. These young people walked away from Glacier National Park with a new love and appreciation for one of America's Best Ideas.